ETA Engineering, Inc.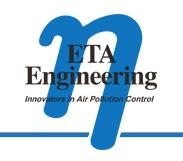 ETA Engineering, Inc. is a leader in industrial ventilation, air pollution control, and turnkey dust collection systems. From concept to compliance, ETA Engineering provides the analysis, design, fabrication and system installation, tailored to meet customer needs and individual application.
ETA Engineering designs and installs systems that deal with common particulate control as well as lead, acid gases, and hazardous fume control.
Innovators in Air Pollution Control
ETA has bridged the technical gap commonly found between design engineering firms and fabrication and installation contractors. ETA's technology-based solutions, experienced innovative engineering, and solid team approach provide not only a functional system for their customers, but one that has been designed with operating and maintenance costs in mind. ETA works hard to develop long term relationships, doing what it takes to understand each customer's specific needs and applications. Their ongoing focus on innovation from concept to compliance constantly drives their search for improved products and services.